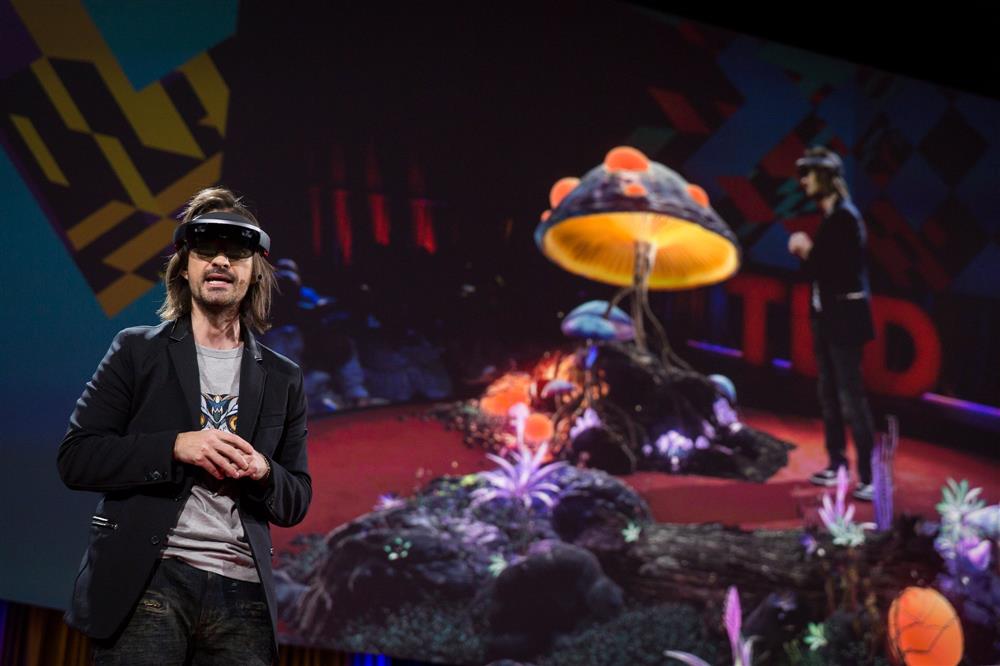 Microsoft has been hyping its HoloLens technology for over a year. Reactions to demos of the helmet-like computer that projects images in front of you ("holograms," as Microsoft calls them) have been mostly positive, though a consumer version is not yet available.
At this year's TED conference in Vancouver, HoloLens project leader Alex Kipman offered up a presentation that looks even more promising than past demos.
HoloLensTED
In the demo Tech Insider received in 2015, we noted that the optics weren't great. That wasn't the case onstage, where Kipman put a fisheye lens inside the HoloLens so TED attendees could see what he was seeing on a screen behind the stage.
Among the scenes we saw on the screen: a trip to the Moon, a virtual forest, and a visit to Mars (a precise holographic representation of Mars based on Curiosity rover data).
HoloLensTED
Finally, Kipman showed what he called the first real-life holographic teleportation — essentially, a virtual call between the HoloLens creator and a NASA scientist standing across the street. The scientist showed up as a full-size 3-D representation.
Here's what it looked like:
HoloLensTED
During his talk, Kipman theorized about a future where we could have holographic devices featuring haptics technology that allow us to feel the temperature of a virtual object or push a hologram and have it push you back with equal force.
He did not, however, reveal how closely the experience he had on stage will match what consumers get when HoloLens goes on sale. (No word on exactly when that may be.)